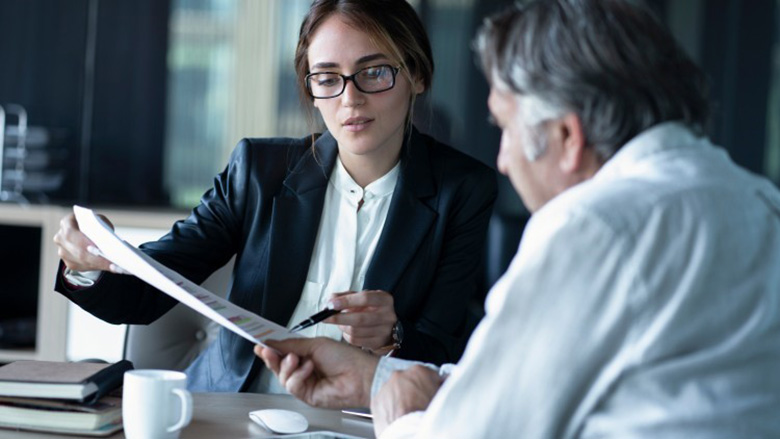 The average business produces large volumes of data — data about profits and losses, consumer trends, sales of specific products and services, employee performance metrics and divisional productivity, to name just a few examples. While raw data alone has limited application, careful analysis can yield actionable insights that drive revenues and help businesses sustain growth. According to a 2019 report from Forbes, 95% of businesses say that they have a problem with unstructured data; that is, raw data that has not been organized or prepared for analysis.
The role of the business intelligence consultant is to provide this analysis. As the amount of data that is generated continues to grow — along with the opportunity to profit from it — the business intelligence consultant role is becoming increasingly vital to enterprises across the country.
For those who are drawn to data and are curious about pursuing a career in business intelligence, formal education may play a big role in professional development. An advanced degree in business analytics or a similar field is designed to equip individuals with the tools to succeed as a business intelligence consultant.
What is a Business Intelligence Consultant?
The primary function of the business intelligence consultant is to interpret data, identify important trendlines and ultimately furnish other departments, managers or corporate leaders with information to guide their decision making.
Responsibilities of a Business Intelligence Consultant
While the specific day-to-day tasks of a business intelligence professional may vary from company to company, some primary responsibilities are common. CIO lists some of these responsibilities:
Assessing current systems and tools for data collection and implementing new data collection systems as needed
Educating employees about how to produce, access or interpret data that is relevant to their role
Reviewing and validating data that's collected from customers
Using a range of data modeling and extrapolation tools to analyze collected data, producing reports and other key deliverables
Recommending new sources of data collection that may help the company achieve its business goals
Communicating insights from data analysis to managers and executives, specifically noting how the data insights may align with business goals or productivity objectives
Typical Work Environment
The business intelligence consultant may work as an independent contractor or as a member of a consulting firm. A consultant's services may be engaged by a small, mid-sized or large company over the course of a specified time, during which the consultant may work closely with different divisions or departments in that company.
For the most part, however, the work of business intelligence consultants requires them to collaborate closely with the information technology (IT) team, which may prove instrumental in establishing or maintaining data collection systems that can serve the company over the long haul.
Common Tools
Consultants who work in the business intelligence field rely on a wide range of statistical and mathematical tools to help them organize complex data sets and present their findings in a way that is accessible to lay people. Some of the most common tools used by business intelligence consultants include the following.
Data visualization tools, such as Tableau
Database management systems, such as SQL
Data analysis software and languages, such as Hadoop and Python
Basic reporting tools, such as Microsoft Excel
How to Become a Business Intelligence Consultant?
Developing the expertise for success in this field requires the right combination of formal education and professional experience.
Education
While there is no firm educational prerequisite for working as a business intelligence consultant, most professionals in this field have at a minimum a bachelor's degree in computer science, information technology, business administration or a related field.
An advanced degree, such as a Master of Science in Business Analytics, can help develop high-level skills. This may ultimately lead to greater competitiveness in the job market, higher salary ranges and more opportunities for management and leadership roles at consulting firms.
Experience
Any experience in IT or in corporate finance may ultimately be helpful to business intelligence professionals. Often, these consultants begin their careers by working entry-level jobs either in an IT department or in a business office.
Critical Skills
Success in this field requires strong technical skills, including a willingness to remain current with the latest data analysis and warehousing software. Additionally, several soft skills are useful in the business intelligence role.
Consultants need strong communication skills, both to train employees on data collection and also to clearly present their findings to company decision makers.
Problem-solving skills are also important, as consultants must often innovate creative solutions to access the specific kinds of data they need.
Critical thinking is also invaluable. Business intelligence consultants need to discern which data sources are meaningful and which aren't, potentially with a huge volume of data sources to consider.
Business Intelligence Consultant Salary
Those interested in pursuing work in business intelligence may naturally wonder about the anticipated salary range. According to the compensation website PayScale, the median annual salary for a business intelligence consultant is approximately $82,110.
Several factors can impact a consultant's specific pay level.
Years of experience: More seasoned consultants will typically command the highest salary ranges.
Education level: Those with advanced degrees may be eligible for more competitive pay.
Job location: Some geographic areas simply have a greater need than others for business intelligence consultants and therefore pay higher salaries.
Using Data to Drive Results
Today's businesses increasingly depend on data and analytics to maximize profitability, productivity and efficiency. Business intelligence consultants can play a crucial role in helping companies connect their data to actionable insights that can impact real, bottom-line performance.
A sound strategy to pursue success in this field is to consider the Online Master of Science in Business Analytics program from the University of Maryland's Robert H. Smith School of Business. Here, students develop competencies in data analysis tools such as Python, R and SQL coursework in quantitative modeling, infrastructure management, decision analytics, data mining and more.
Explore how the University of Maryland's Online Master of Science in Business Analytics program can put you on a path toward a successful consulting career.
Recommended Readings
Health Care Data Analyst: Salary, Job Description & More
Research Analyst Roles and Responsibilities
Decision Analytics for Crisis Response
Sources:
CIO, "What Is a Business Intelligence Analyst? A Role for Driving Business Value with Data"
Datapine, A Guide To Starting A Career In Business Intelligence & The BI Skills You Need
Forbes, "The Age of Analytics and the Importance of Data Quality"
PayScale, Average Business Intelligence Consultant Salary
TechRepublic, "The 3 Most Important Types of Data for Your Business"
Towards Data Science, "Top 10 Business Intelligence Tools of 2020"